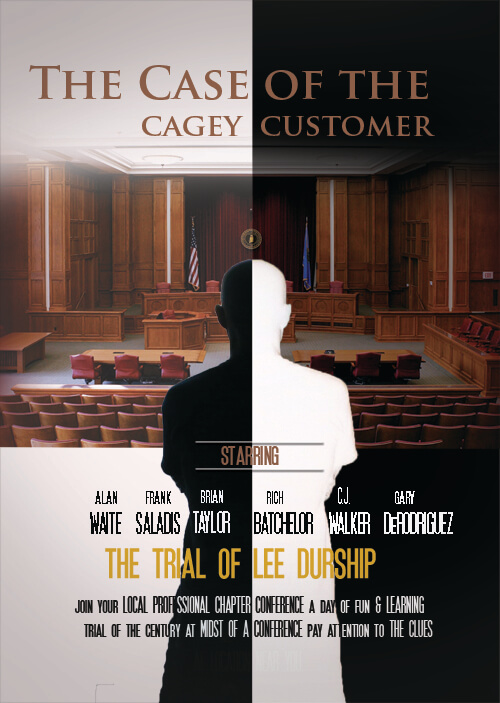 THE CASE OF THE CAGEY CUSTOMER
The Trial of Lee Durship
YOU are the jury.  YOU will decide if a Project Manager, Lee Durship, should be held liable for losing his company's largest account, costing it tens of millions of dollars, because of his use of classic leadership principles where 21st century Digital Age Third Wave principles may have been critical..
You will hear the case, deliberate, and render your verdict
The Case of the Cagey Customer is based on a real situation where a project manager bungled a major project with the potential for millions of dollars in revenue for his large consulting organization.
What went wrong? Why did the project fail? How could the application of TPL principles have changed the outcome? Attendees will learn why TPL is critical to staying relevant and flourishing in the Third Wave…else risk quickly becoming obsolete.
DEATH AT THE CONFERENCE
Who Murdered Lord Lee Durship?
Lord and Lady Lee Durship have invited several quests for a quiet dinner party at their country estate, Waterfall Manor.  From the beginning, it is clear that no one likes Lord Lee Durship – his approach to everything is imperious, commanding, and hierarchical.  He is an anachronism, out of step with the times, and because of his leadership style, his once lucrative company is slowly failing…putting everyone's financial well being at risk.
Not surprisingly, by the end of the evening, Lord Lee Durship falls victim to Murder Most Foul..
You are brought in to help solve this mystery – who killed Lord Lee Durship, and why?